Raja Slates Pvt. Ltd. is a Bhavnagar, Gujarat, India based company engaged in offering durable and efficient range of Black Boards, Slates, etc. We offer high-quality products loaded with maximum utility and features that make them highly demanded in the market. With more than 4 decades of vast expertise, we have attained the monthly production capacity of more than 3,25,000 Slates. In addition, we also ensure to provide tailored products in different quantities to meet small as well as bulk orders on time.
Face Sheet of Raja Slates Pvt. Ltd. :-
Business Type

Exporter, Manufacturer, Supplier

Primary Competitive Advantages

World class quality, timely delivery and reasonable prices

No of Staff

100

Year of Establishment

1975

No of Production Lines

1

OEM Service Provided

Yes

No of Designers

4

Monthly Production Capacity

3,25,000 Slates

IEC Code :

2406007448

Product Range

Black Boards in

Aluminium Frame
Frameless
Medium Density Fiber (MDF) Boards based Chalk Black Boards

Slates in

Plastic Frame (in different frame options as Deluxe-Twins, Deluxe, King)
Tin Frame (in different frame options as Deluxe, Popular, Student, Captain, Janta, Happy)
Frameless (Hero)
Pre-Printed (Janta Tin Frame)

Study Boards in Tin Frame as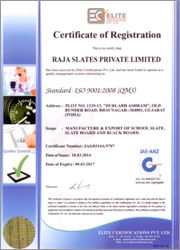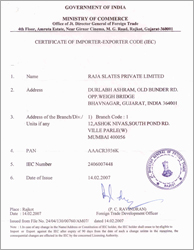 "We are accepting orders of minimum quantity 600 pieces/ 5 Boxes."
Contact Details
RAJA SLATES PVT. LTD.


Bhavnagar, Gujarat, India
Plot Number 1219-13, "Durlabh Ashram", Old Bunder Road, Bhavnagar - 364001, Gujarat, India
Phone : 91-278-2432831/2518722/3209191/2519255
Fax : 91-278-2519255
Mr. Sandip Patel (Director)
Mobile : 09374470101, 09374470909, 09376012340
Mr. Hitesh
Mobile : 09374470101